A couple of days ago my wife and I went to the talk Dmitry Glukhovsky gave in the Celsius 232 festival about his upcoming novel, Furu.re. We took the opportunity of getting a copy of Metro 2033 signed by its author, and the corresponding picture just like last year we did with David Simon. Coincidentally, the book signing took place in the same booth.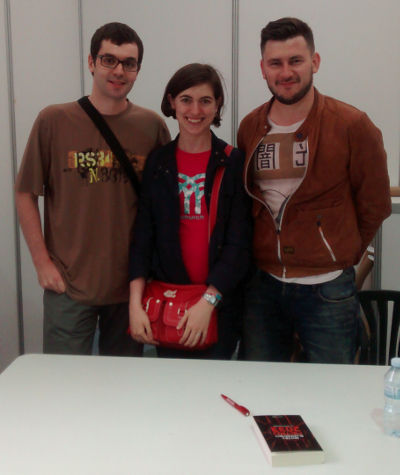 I must confess I haven't read the book yet. I only knew the videogame, and interest in the novel only came to me after hearing he was coming to the festival. The videogame is pretty average, in my humble opinion, and I always thought it required too many resources for the graphics quality it offered, but recently I read several reviews suggesting the "hardcore ranger" mode made the game much more interesting and satisfying, emphasizing the survival aspect. Just a few months ago I replayed it and I have to agree. Naturally, it's more difficult in that mode, but very far away from frustrating.
I have a copy of Metro: Last Light in my Steam account, but it's still sitting in my pile of pending games.
Futu.re was enthusiastically presented by the talk director and praised as Glukhovsky's best novel so far, bar none. The background is a future were humankind has finally reached biological immortality, and tries to answer the questions evoked by that premise.
The superstar of the festival this year was Patrick Rothfuss, author of The Kingkiller Chronicle trilogy, who got people waiting in line for hours to get a signed copy of one of his books, and a packed auditorium during his talk.